Description: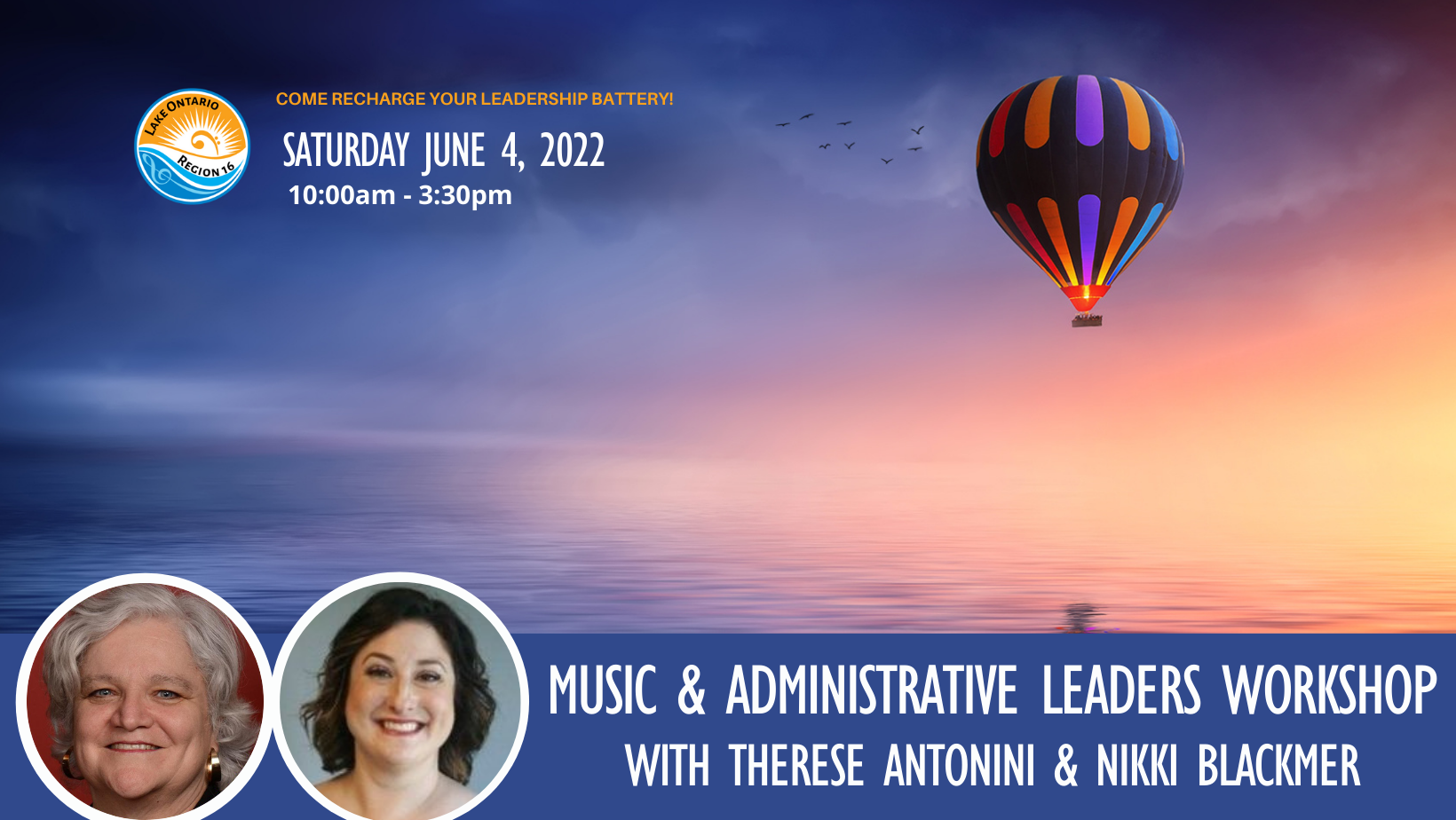 Administrative Leadership Training

TIME: 10am - 12:30pm
CLASS DESCRIPTIONS:
The Care and Feeding of Leadership – True leadership is challenging and can take a personal toll on individuals, sometimes leading to burnout or poor performance. This class explores how to take care of ourselves and others as leaders, including signs to watch for and how to respond to them. Participants are invited to share their own experiences and participate in exercises to explore creative leadership support approaches. (Administrative Leaders/Directors)

What Did You Just Say to Me? The Power of Words – This class will bust the myth of the old "sticks and stones' rhyme, and will explore some of the neuroscience behind why words have so much power. Participants will play with words to help discover techniques to help get our true message across and achieve better outcomes for our conversations. A discussion about the role of social media in communication will be included (Administrative/Musical Leaders/Section Leaders)
FACULTY: Thérèse Antonini
BIO: Thérèse Antonini is a 28-year member of Sweet Adelines International (SA). Her membership has spanned five regions, eight choruses and Chapter-at-Large, and included a short stint as director for a prospective chorus. She has served in a wide variety of administrative roles, from chorus administration, to Regional Management Team (RMT) involvement, to her current position as President-elect on the International Board of Directors (IBOD). She is a certified adult educator and finds working with Sweet Adelines learners especially rewarding. She makes her home in Toronto, Canada and sings with North Metro Chorus.
---
Musical Leadership Training

TIME: 1-3:30pm
CLASS DESCRIPTIONS:
How to Get Better – No Kidding! How to get better – truly! Without any punches pulled….If you're serious about improving your score, this class is for you. (All)
Lead A Sectional Like A Boss – A class devoted to making you a Sectional Queen! A comprehensive list of what can be covered in sectionals. A checklist for what to listen for, so we don't skip any steps. (Directors, Asst Dir, Section Leaders)
A Director's Perspective on Arranging – What are directors looking for when we look at an arrangement? What are the hallmarks of each level in our eyes? What are the traps we try to avoid and what are our honest pet peeves? (Arrangers, Directors, Asst Dir, Quartets)
FACULTY: Nikki Blackmer
BIO: A member of the 2017 International Quartet Champions, Frenzy, Nikki is a high-energy, results-based voice instructor, coach, and director. As the director of A Cappella Joy Chorus, Nikki revitalized the Greater Seattle area chorus into a recognized and formidable a cappella performing and competitive group (from 7 people to over 60!). She is also the director of the a cappella ensemble, The Supert
onics, and serves as the Director of Adult Music at Lake Washington United Methodist Church. For more info,
click here

.