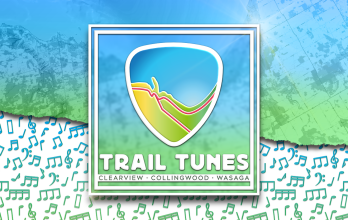 Harmony North Chorus is very excited to be performing on Saturday, June 3, 2023 at Collingwood's Trail Tunes event.
If you don't bike then just bring down your lawn chairs or blankets, or grab a seat along the natural stone tiers facing our gorgeoous waterfront as we welcome Summer 2023 at our Shipyards Amphitheatre located at 2 North Maple Street in Collingwood.
Parking is available at the north end of Birch Street! Follow the trail a short distance to the Amphitheatre.
Help us to adhere to the No Parking restrictions along North Maple for Emergency vehicles, accessible entry and load-ins/drop-offs required.
Come out and kick off our summer season!
Mark your calendars!
Music starts at 12:00 noon and continues to 4:00 p.m. with four great performances by four great artists/bands, including:
12 noon - Jamie Ciotka Band
1 p.m. - Chuck Baker Band
2 p.m. - Harmony North Chorus
3 p.m. - The Mike McCarthy Band.
You can also park your bike in the bike rack and take a breather while enjoying some waterfront entertainment.
The final headliner of the day is the incomparable Juno Award winning, Irish Mythen, all the way from Eastern Canada and she is a huge crowd pleaser with a unique, heartfelt style! Don't miss Irish at 7:00 p.m.
All this is FREE to attend so get out and enjoy yourself!
Presented by the Town of Collingwood in partnership with the County of Simcoe, the Township of Clearview and the Town of Wasaga Beach.